oct 13th line-up
it's coming very soon!!!!!
to join our mailing list click on the dudes nose
| | |
| --- | --- |
| | |

13th oct line-up
the h gang
a fantastic nine piece band formed specifically for the room, by drummer paul wooden.

playing a range of covers from all styles of music, funk to blues to soul to dance to modern classics.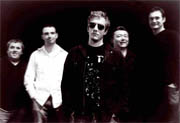 mother black cap
Mother Black Cap are based in the Yarmouth / Norwich area and have been a gigging band since early 2005.
The band have recently released their first full length album "In the Comfort of your own home" to much acclaim. Their live show has always been entertaining combining talented musicianship, spectacular light show and video projections, great songs and lot's of tongue in cheek humour.
Their musical style is loosely described as 'Progressive Rock' recreating the feel of bands such as Pink Floyd, Genesis and ELP but with a singer born well after these bands long since disappeared give the band a more modern edge as well. Alongside their original material, they play a selection of covers from bands like The Who, Pink Floyd, Focus and David Bowie.
The band have built up a loyal following across East Norfolk over the last year playing at notable local venues and festivals.\

for more info on visit their website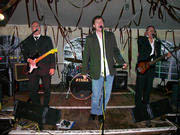 feelgood factor
Feel the GOOD Factor! "The best Blues act in Britain today", and so the story goes...Countless congratulations, bucket loads of booze, and enough raw energy to sustain 3 HOURS of electrifying entertainment & still the crowds want more.

This is not just any old story and it ain't any old band. Raw and unplugged or with more wattage than the national grid, these guys plan to wipe the floor, reshape the blues and put you on your knees begging for more !
Check out the boys.....
Billy Lund (Bass Guitar, backing & lead vocals) has a musical history the length of Europe. Live session work in Scandinavia with Paul Burgess (10cc), studio work with Doug Morter and a recording studio in England only scratch the surface of a colourful association with the music industry...and yes, he is that good looking !
Neil Challis (Lead guitar, Lead vocals) has spent many years as a session guitarist. Revered by many as one of the best blues guitarists since Clapton's era, Neil's ability to switch from the raw sound of acoustic to full blown electric blues will captivate you.
Andy Marr (Drums) brings an immense amount of studio and live session work as well, ranging from good old working mens' clubs through to the Royal Opera House! Andy has honed his talents on the caberet and armed forces circuits and can play any style you want to hear. Not since the days of John Bonham and Keith Moon has drumming been this good !
Paul Gillings (Harmonica & Vocals) has a musical history way beyond his years. With 5 Glastonbury appearances, 42 TV appearances worldwide, an American Tour, European tour, Channel Island tour, 15 British Harmonica Championship titles and 2 World Harmonica Championship titles before the age of 17. This makes the addition of Paul's Harmonica to this group a deadly combination! The Feelgood Factor will take you on an explosive journey ranging from two to three hours of blues in their own inimitable style

for more info visit their website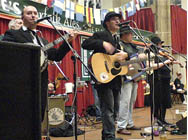 ugly dog skiffle
The Ugly Dog Skiffle Combo are an eccentric bunch of musicians from Norfolk, UK who gather together on a regular basis to play anything that sounds good from the last 100 years on a mix of traditional and home made instruments.
Their ever expanding set list covers many styles that exploit the diverse vocals that each member has to offer and the wide range of instruments they play including Tea Chest Bass, Guitar, Fiddle, Banjo, Kazoo, Double Bass, Washboard (of course), Harmonica, Mandolin and stand up drums.
With over 4 years playing experience together, The Ugly Dog Skiffle Combo, have developed a style all of their own that is somewhere between traditional skiffle, bluegrass and rock 'n' roll but always having a good time. Constantly building a loyal following the band have gone on to make numerous live appearances on BBC Radio Norfolk.
for more info visit their website



Special Guests
as well as the above bands appearing on oct 13th, special guests will be featured, performing with the resident band or in their own right, in order to see who they are you will have to visit the room but on thing is for sure you will not be disappointed!