sept 1st line-up
it's coming very soon!!!!!
to join our mailing list click on the dudes nose
| | |
| --- | --- |
| | |

7th july line-up
the h gang
a fantastic nine piece band formed specifically for the room, featuring the vocal talents of the fabulous charlotte joyce, rhythm section of drummer paul wooden and bassist ron sayer.

playing a range of covers from all styles of music, funk to blues to soul to dance to modern classics.



canine feline
Canine feline are a 4 piece female fronted rock band from Great Yarmouth. They formed in December 2006 and have since been writing loads of original material, as well as recording their first demo CD and doing various local gigs.
The band consists of:
Becs: Vocals
James: Guitar
Arron: Bass
Steve: Drums
Canine feline have a unique style of powerful yet melodic music, which any music lover will enjoy.
The band is hoping to start gigging further a field next year and will be recording another EP later in 2007.
for more info on canine feline visit their website
http://www.myspace.com/caninefeline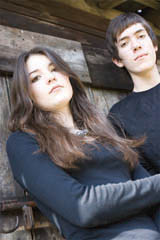 sam & daisy
sam and daisy are brother and sister singer/songwriters from north suffolk who gig regularly in east anglia, playing original songs and covers.

for more info visit their website www.samanddaisy.co.uk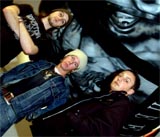 lazy poker blues band
The band formed after watching old blues videos and drinking Jack Daniels long into the night. Danny and Ricki decide that they wanted to put a blues band together in drunken banter and straight away knew from previous experience of playing together that they wanted Jack in the band from the start. They had their first practise together on the 8th of february and had their first gig the next day. Having learnt and performed a few songs really quickly the band felt they connected well musically, sociabley and very well on stage.
for more info visit their website



Special Guests
as well as the above bands appearing on sept 1st, special guests will be featured, performing with the resident band or in their own right, in order to see who they are you will have to visit the room but on thing is for sure you will not be disappointed!