june 9th 2007
it's coming very soon!!!!!
to join our mailing list click on the dudes nose
| | |
| --- | --- |
| | |

9th june 2007 line-up
the h gang
a fantastic nine piece band formed specifically for the room, featuring the vocal talents of the fabulous charlotte joyce, rhythm section of drummer paul wooden and bassist ron sayer.

playing a range of covers from all styles of music, funk to blues to soul to dance to modern classics.

more information soon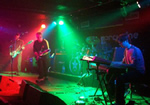 Lewellyn
All songs are written by Paul Johnson and arranged by Llewelyn; influenced by a variety of Artists and bands. Newspaper reviews have used early Radiohead, David Gray, Travis and Coldplay as comparison in the attempt to categorise the original sound and style of the music. The band have visited France nine times since their formation performing in various venues and have returned from a fantastically received 10 day tour of Paris and suburbs. Llewelyn play and perform with passion and expression that both welcomes and inspires the listener; the band have a diverse range of material for live shows as well as showcasing the song writing talents of Paul Johnson and the strength of the band members as a whole.

for more info on Lewellyn visit their website www.llewelyn.biz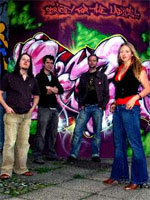 Mondatta Funk
Founding members Mark Howes and Chris Griggs had a vision of bringing the FUNK sounds of the 60's and 70's to Norwich, tearing the roof of the mother sucker in the process...!!!!

In a previous line up we played the King Street festival attracting the attention of many other like minded musicians who wanted to be in the funky revolution.....With a number of changes on the bass we finally found the child of Motown's James Jameson, Kieran Brennan and slotted him into the mix of wah-wah and punchy funk rhythms...

At a rehearsal we stumbled across a jazz poster with Miss Lauren Dove's details...we called and she strutted in a blew our minds with the dirty funk and soul in her voice....We were now a unit..!!! Over the last 2 years we have had guest players come in and add to our sound. We now have a core rhythm section that funks out on every beat and guest horns scream for you to get up to get down..... so kick back, dig...while we do it to you in your ear drums.....


lynchburg tenn
tain, robsteady and leevil, otherwise known as Lynchberg Tenn. They peddle the kind of grimy, seedy blues that people have been marinating their innards in whisky to since the dawn of rock`n'roll itself. musically they occupy the space between the lascivious groove of nick cave and the spaced out frenzy of early doors, with the guttural growl of singer Tain enough to strip the varnish off the bar"




Special Guests
as well as the above bands appearing on june 9th, special guests will be featured, performing with the resident band or in their own right, in order to see who they are you will have to visit the room but on thing is for sure you will not be disappointed!